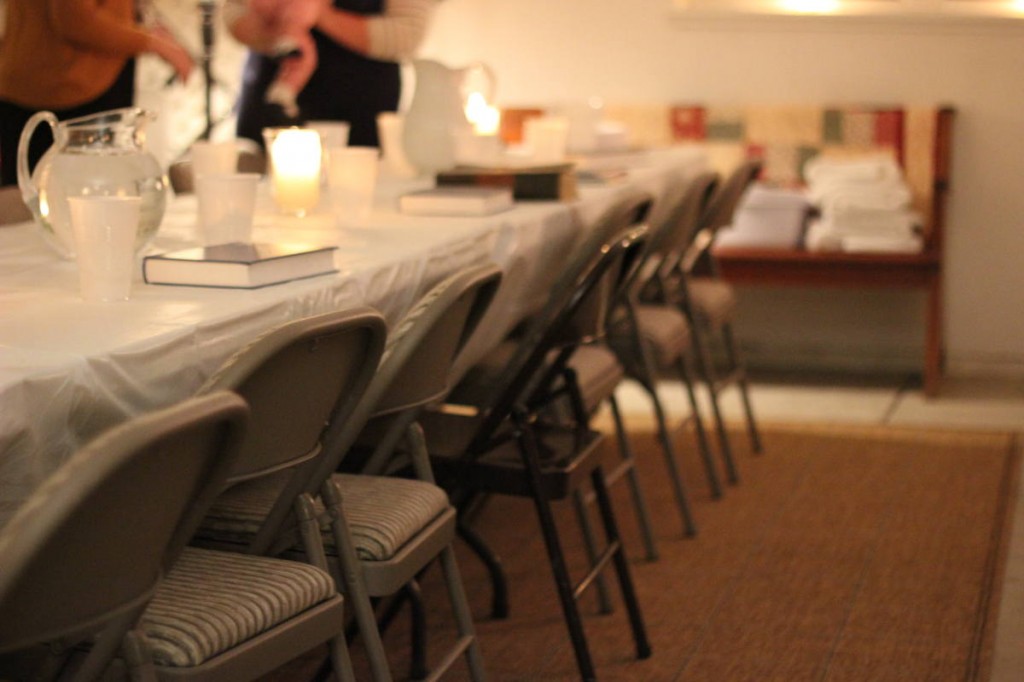 Last night we had a Love-Feast service. I was thinking about how to describe the Brethren Love Feast I grew up with to someone who hadn't participated and I remembered leaving a comment a long time ago over at www.rustyparts.com about the Brethren communion service. I'm just going to steal my old comment there:
I grew up in the Dunkard Brethren Church. Communion is a part of "Love feast" and is held only twice a year. Properly, it is a two day process with an "examination service" inviting the congregation to make right any rifts that exist within in the body on the day before the actual love feast. (Some modern innovators have done away with this). The service itself consists of a simple traditional meal, a foot washing service (the church sits at gender segregated at tables, each member taking a turn kneeling and washing the feet of the person beside them) and then communion is done by passing around a single cup to drink from and passing around wafers of communion bread and breaking them. Throughout the service the descriptive passages from Matthew and Luke are read, both of the events of the "Last Supper" and Jesus' actual passion. All this will take a couple of hours…

I left the Dunkard Brethren a few years ago with some sadness over the power of "we've always done things this way" and the hopelessness of fighting the past. Still there is something so evocative about communion as they practice it. Writing this I have a lump in my throat that's hard to explain… The witness to community portrayed when the Church unitedly engages in acts of humble service… The memories of the aged elder minister creakily kneeling to wash my feet at one of my first communion services as a teenager… The same hymns, every time. The comments by lay members as the service progresses; masculine, blue collar-type men moved to tears as they meditate upon Jesus' suffering and the reality of his living Presence… The same statement and affirmation between each member as they exchange bread and cup…

The Brethren are, they say, non-creedal and non-liturgical. Ironically, their communion service is one of the most meaningful religious rituals I have participated in…
Well, it's still a pretty good description. Last night we surrounded the tables, enjoyed a meal together, washed one-another's feet, and shared in the communion of bread and cup. It is still a blessing, every time.